Contributions Download
The contributions tab available to each TB/WG and displays latest contributions for selected group(s) in the body selector.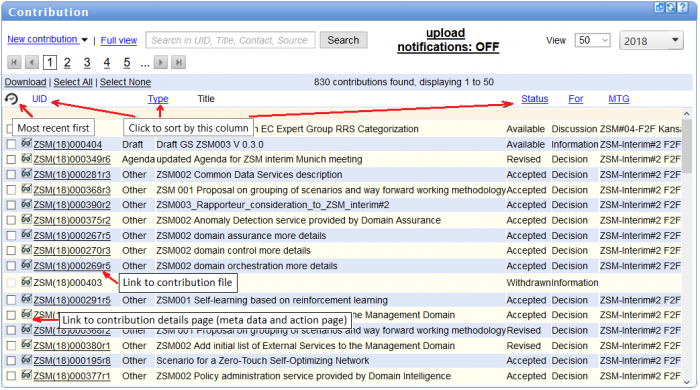 List of contributions
The following columns are displayed in the "contributions" portlet:
Note: Clicking on a column header will change the displayed sort order.
Download Contributions
Individual document download
Any contribution that is available can be downloaded by clicking on its ID.
If the contribution is not public, a login will be required before accessing the file for download.
Bulk document download
When logged onto the portal, it is possible to download contributions in a zip file containing several documents.
In order to do so, select one or several available contributions and click on the Download link. Alternately, a Select all link selects all available contributions displayed on the page
Links to contribution main application
New Contribution
This link allow the user to choose the type of contribution and then leads to creation screen
Full view
This button links to the contribution main screen, displaying the same list of contributions than in the portlet view.
Number of items displayed
The number of contributions displayed on each page can be 20 (default), 40, 60, 80, 100 and all contributions.
Navigation between pages can be performed by clicking on Previous and Next links at the bottom of the page.